At Corning Eye Center we pride ourselves on bringing the latest ophthalmic technology to the Ada area.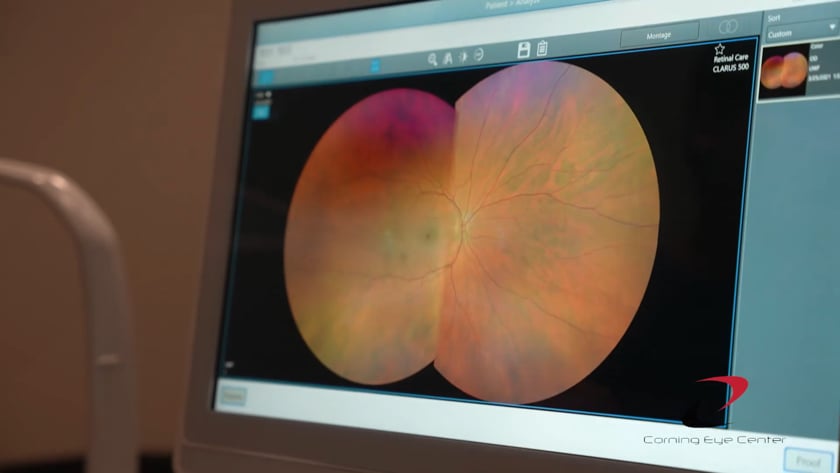 Click a procedure to learn how we can help you;
Advanced Cataract Implants
Today, there are lens implants that can provide distance vision, intermediate vision, and near vision–all together. In addition, if you have astigmatism, it can also be corrected or reduced with an intraocular lens implant.
Dry Eye Treatment-Lipiflow
The clinical science behind MGD (Meibomian Gland Dysfunction) as the primary cause of dry eye and its treatment is supported by over 25 years of scientific research. Gland blockages can be removed to restore proper gland function and reduce the progression of MGD, provided your gland structure is healthy. LipiFlow is the only FDA cleared treatment that properly heats the inside and outside of the eyelids while providing a gentle massaging action to properly remove gland blockages. Most patients receiving treatment notice improvement with symptoms over time but may need regular treatment every 1-2 years. The treatment is virtually painless and takes less than 12 minutes.
SLT can be used to supplement medication therapy or used as a primary treatment to reduce or eliminate the need for topical glaucoma medications, along with their common side effects.
In the case of a secondary cataract, the posterior capsule, a thin membrane that lies just behind the implanted lens, becomes clouded over with scar tissue that grows in response to the surgery. The most effective way to treat a secondary cataract is a simple laser procedure called posterior capsulotomy.
Cirrus HD OCT Retinal Imaging
BlephEx is a painless in office procedure performed by your eye care professional or trained technician. A revolutionary new patented BlephEx hand piece is used to very precisely and carefully, spin a medical grade micro-sponge along the edge of your eyelids and lashes, removing scurf and debris and exfoliating your eyelids.
The patented micro-sponge is disposable and for optimal cleaning and exfoliating, a fresh one is used for each individual eyelid.  The eyes are rinsed well afterwards.
The procedure lasts about 6-8 minutes.  Most patients simply report a tickling sensation. A numbing drop is usually placed in eye prior to treatment for increased comfort.
After the procedure, the patient is instructed on how to maintain their clean eyelids with regular nightly lid hygiene.  Since home treatments are only semi-effective, the procedure is typically repeated at 4-6 month intervals.
Call Us: 580.332.1880
For more information or to schedule an appointment, please call us today!